Away from home and yet at home
Appartments Thaller in Bruckmühl, Oberbayern
Languages: English, Spanish, French
About us
Comfortable and convenient living in Upper Bavaria
Family bungalow in country style/strong>
Enjoy a relaxing vacation with up to three people in our alpine-style furnished 63 sqm vacation apartment in the center of Bruckmühl. You will stay in a separate bungalow with its own entrance. The bright bedroom with three beds is perfect for a restful night. In the generously designed living room, two comfortable sofas invite you to lounge and read. For entertainment and information, you are welcome to use the large TV with satellite TV and the free WLAN. The integrated dining area with high-quality corner bench and large table invites you to a cozy snack and fun game evenings. In the fully equipped kitchen you can prepare meals yourself and also try regional specialties. In the bathroom with corner bathtub, shower and toilet there is no question: "Who may first?". On the terrace with seating, the balmy summer evenings can be enjoyed perfectly with a refreshing drink or a chilled Bavarian beer. The central location of the vacation apartment offers you not only short distances to the shopping center, stores and restaurants, but also a direct connection to the railroad network of the region. So you can get safely and comfortably to excursion destinations between Munich and Salzburg or to the enchanting cities themselves, even without a car and a search for a parking space. If the landscape is snowy, our two sledges are at your disposal.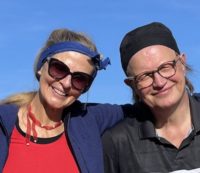 We will be glad if we can help you to have a pleasant stay.
You will live in a separate bungalow near our residence. So we are always available for you.
Manuela & Klaus
Your hosts
Cozy nest for two or three
Apartment MARLEEN
Located in the center of Bruckmühl, the vacation apartment offers 45 square meters of space for max. three people. You live in a separate bungalow with its own entrance. A spacious room with wooden ceiling, two beds, sofa, wardrobe and modern TV with satellite reception forms the center of the cozy, ground-level apartment. A separate bedroom with a closet and a window is adjacent. A small separee with kitchen, coffee machine and dishes offers everything you need for breakfast, a Bavarian snack or hot meal. Not in the mood for cooking? The regional gastronomy offers variety – it is also vacation… The bathroom with shower and toilet is newly renovated. To the apartment belongs a covered terrace in the green with rustic wooden bench.
Due to the good connection to the public transport you can also reach many destinations in the near and far surroundings.
Apartment ANNINA
One of two apartments in the newly renovated bungalow. Original farm cabinets, solid wood furniture and new beds.
Bedroom with 3 beds
Large living room with corner bench and two sofas

Bathroom with corner bath and shower

Full kitchen with new washing machine
ab € 100,00 for 2 Pers.
plus € 50,00 for 3rd Person
plus € 40,00 Cleaning flat rate
Apartment MARLEEN
Offers space for maximum 3 people
2 beds in bedroom 1
Single bed in bedroom 2
Small snack corner with refrigerator, kettle, coffee maker
There is no stove and there are no cooking facilities.
from € 80,- for 2 Persons
plus € 40,- for 3rd Person
plus € 40,- Cleaning flat rate
The apartment is nice and big, well furnished and very clean. On the terrace you can have a wonderful breakfast or end the evening hours. Klaus and his wife are very warm hosts and we had a great vacation. Bruckmühl is a nice little town and the accommodation is really well located. Very happy to return!
Checkin & Checkout
Check-in: Flexible
Check-out: 10:00 AM
House Rules
Smoking prohibited
No pets
Galgos, Italian wind chimes are welcome
No parties or events
Long-term bookings of more than 28 days are possible
Cancellation Policy
Free cancellation until 15:00 the day before. Refund minus the cost of the first night if cancelled by 3:00 pm of the day of arrival.
Do you have a question?
Feel free to contact us!
Information
Location & Excursions
From the Adalbert-Stifter-Straße you are in a very short time on foot at our river, the Mangfall. Also the town center with ice cream parlor, various restaurants, organic food store, bookstore, shopping center, medical center, banks and train station you can reach on foot in close proximity.
Restaurants
Whether it's the restaurant with a view of the Alps, our ever-popular Italian with outdoor seating; the Indian for which others travel far; the Greek with a cozy beer garden; the village or brewery pub: you'd have to stay a long time to try all our recommendations.
Sightseeing
In addition to the famous such as Herrenchiemsee Castle, the German Museum in Munich and Lake Tegernsee, there are also the nearby, smaller, no less beautiful sights such as film locations, the Bad Aibling Station radomes or the Aibling Moor. Ask us, there is much to discover!
Adventure
Hiking with camels, a day at the world's largest thermal spa, taking the cogwheel train up the Wendelstein, a day at the Almbad or a little further to the Swarovski Worlds in Wörgl in nearby Austria.
Outdoor & Adventure
Enchanting places such as the Goldbach, the reservoir, Vagen Castle, bathing lakes and hearty beer gardens are easily accessible by bike. In no time you are at the Mangfall and can drive via Rosenheim to the Simsee. So close to the mountains there are hikes from easy to difficult and short to long. And on the Wendelstein you simply must have been. On foot or by rack railroad towards the summit.
Arts & Culture
There is so much to experience here, so we better put in a link to Chiemsee Alpenland Tourismus GmbH. But feel free to ask us anyway. We keep an eye on our regional newspaper and know what's worthwhile in our immediate vicinity.
Day Trips
With the proximity to the train station Bruckmühl you have the possibility, even without a car, to take the train BOB-Meridian to the nearby spa Bad Aibling (5 mi), to Rosenheim (11 mi), Salzburg (64 mi) and of course to Munich (27 mi), with all the cultural possibilities.
Visit Bruckmühl
We have free dates
Be our guest with pleasure. We look forward to you!
Inquiries gladly via the following contact details.
Adalbert-Stifter-Str. 7
83052 Bruckmühl